June 8, 2020
We can't wait to see you again!
We might not have seen you at trade shows and events for a little while, but we're still here! We have lots of items in stock to make your city or park dazzle your residents and clients. Peripheral lighting, LED ornaments, panel trees, garland, wreaths and banners are all easy to get for a memorable holiday this fall or winter.
Universal Concepts has been the leader in Christmas Lighting and Décor for 40 years.
It's important every year to greet your visitors with exciting lighting and holiday decorations.
This year may be even more important!
We love creating a memorable holiday, one that brings in families, young people and out-of-town visitors. Your city or park can attract attention with peripheral lighting and accent lighting visible from blocks away, then wow them with fantastic features seen up close. 
You can even create interactive pieces which invite your visitors to linger: walk-through ornaments or trees, or light shows which are synced to your playlist. Or place giant fiberlass ornaments or centerpieces like a 9 foot tall Christmas Nutcracker!

Whether you need traditional decor, a massive building-top panel tree, or a convertible walk-through Christmas ornament (check out the pumpkin alternate lighting for our walk-through Christmas Ornament above), we'll give you holiday options which help you make this season the best ever. 
It will be a memorable close to a challenging year.
Thank you for being our customers and for joining us in thinking big for the holidays!
Call (800)522-0718 to speak with someone about your place's decoration needs.
Universal Concepts  (800) 522-0718
June 1, 2020
A Walk Down Memory Lane
One of our proudest accomplishments was a few decades ago: back in the eighties, we provided Cypress Gardens in Winter Haven, Florida with what was (at the time, and for the following eight years) the world's tallest panel Christmas Tree. One hundred and thirty-seven feet tall, it was massive, seen from many miles away - the centerpiece of the now-defunct park. We were pretty proud! Above you can see the massive steel frame, each ring four feet wide. To say the least, scaling this structure and fitting it with garland, ornaments and a star was no small accomplishment.
Here (above) you can see how it was decorated with lit botanical silhouettes and garland. It towered over the park and was a community favorite for decades.
We can help make your destination memorable, too. 
Check out this video (no audio) of the raising of this giant tree
Universal Concepts  (800) 522-0718
May 28, 2020
Let's Think About Lighting
Are you tree-rich and lighting-poor? One of the easiest and most cost-effective ways to create a festive area for visitors is the use of tree lighting. Lit trees can mark a pathway, invite your visitors into your area, set a mood and turn a ho-hum event into a blockbuster celebration.
Smaller trees like crepe myrtles can be encased in mini lights which cover as much of the trees as you wish; for a different effect, light the upper and lower areas of your small trees in different colors.
Larger trees like full-grown maples, oaks and live oaks can be decked out in full-size C7 lightline to make a massive statement in LED brilliance. Our light show at the Harbor Lights Festival in Gulfport, Mississippi features many of our lighting products, displayed stunningly in their live oaks, as well as in smaller ornamentals.
And don't forget palms: the cabbage palms we lit at Tybee Island are a two-tone lighting feature which sets the tone for a festive season.
Your tree lighting can be a staple of all of your year-round holidays, with the reliability and performance of our lighting products! Call us at (800)522-0718 to see how we can help you make your trees shine this year!
We're busy in the warehouse and are so excited about all of our new decor. We're building huge ornaments like this one (nineteen feet tall!) so that you can put your choice of lighting on it. We also have in stock all kinds of commercial Christmas decoration items for your holiday season, and can't wait to show it all to you! Below you can see an ornament like this one, decked out in programmable RGB lights: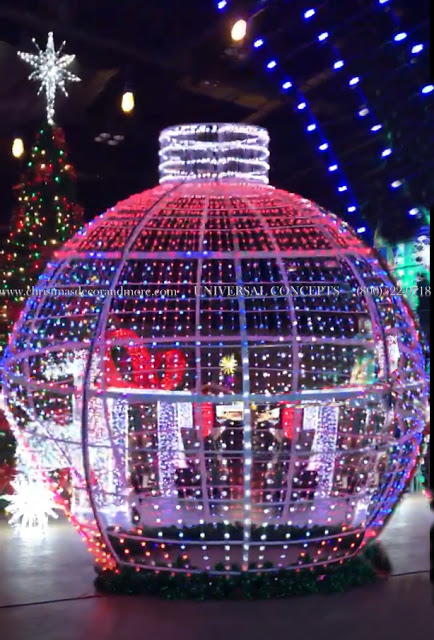 Here you can see a video some of our RGB ornaments like this at Six Flags Magic Mountain, one of them is thirty feet tall! (The one way in the back). We've been creating these walk-through ornaments and other large features for many years and hope to show you more of our process in the coming days. If you have a concept for an upcoming holiday or event, give us a call at (800)522-0718. Our design services and expertise are here for you, and are absolutely free - you'll be able to see how your new Christmas decor looks in your setting and go to decision makers with proposal photos in hand.
We're also focused on the basics of traditional small town Christmas. Think peripheral lighting spanning the contours of your buildings, creating a glowing, inviting space. Or cheerful traditional garland and bows dressing up your streets and paths with a beautiful holiday statement. So, big or small, we're planning and working hard! We think your town or park deserves some planning, so give us a call and let us show how creative and inviting your place can be this coming Christmas!
originally published Oct 10, 2017
Spruce Up Downtown for Excitement!
Beautiful lighting transforms your town into something special at night
From big to small, our cities and towns know that lights help drive excitement and participation.
And what I want to talk about is a point that many malls and shopping developments have already taken to heart: pretty lights can help you keep the fun going all year round! You can see festival lighting stretched across shopping avenues and restaurant patios, peripheral lighting along the edges of buildings at all times of the year, sparkly trees lit up with mini lights, no matter the time of year. Why not join the fun and think about accent and peripheral lighting for your area?
If you're thinking about this type of lighting for Christmas this year, let us help you do it in a way which will be usable year-round!
Peripheral Lighting: notice a building like never before!
Peripheral lighting along roof edges and architectural features will punctuate the unique characteristics of your buildings and make them stick in the memories of your visitors. It will also be the best type of lighting to make an impact from a distance.
Accent Lighting sets a mood and fills your place with color and glow
Accent lighting in trees and shrubs will give up-close sparkle and romance, keeping the eye and the attention of young and old. Do this type of lighting for the "wow" factor and as a way to add color and glow up close.
Festival Lighting creates a space for your visitors
Festival lighting which stretches across paths and streets is best for creating depth and a path to encourage your visitor to stay, visit and meander. It gives you height as well as depth of field and is easy to maintain and use for all types of different occasions.
So spruce things up! Enjoy the holidays and know that we wish you and your loved ones the best during this holiday season.
(800)522-0718
originally published Aug 15, 2017
Our New Digs in Cumming, Georgia
We're so happy in our new location in Cumming (Georgia). Everything's getting organized and now...ta-DA!! Our new showroom (lobby) is ready to see! If you want to know what a panel tree looks like and if your Yorkie can climb inside of it (Apollo can), if you want to check out some commercial pole décor or wreaths before you order, hop onto Georgia 400 and head north to see us. We're just off exit 16 and we're sure you'll like all of the color and big beefy sturdiness of our items.
The best thing about coming to visit is that you can see what our time-tested panel trees look like before you buy. Often customers wonder what type of a tall tree to invest in when their park, city or town needs a Christmas centerpiece. Sometimes they decorate a live tree, sometimes they will try an artificial tree, but the reason you see so many of these imposing steel panel trees is durability and strength. There are some of our trees around Atlanta and the Southeast which have been coming out every Christmas for 20+ years, which is a long time for a Christmas décor item!
A very practical reason for investing in a panel tree is the ability to maintain and refurbish light line, bulbs, wiring harnesses, everything about it. If you need a panel tree redo, we're your folks!
Stop by and see us, we'll make sure all the pretty stuff is plugged in!